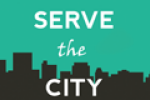 Friday March 9th to Tuesday March 13th
Cost: $15
@ Crestwood Baptist Church
Register by Feb. 26th to get a Serve the City T-Shirt
Serving right here in our community. Four days of serving, worship and fun. We will be heading out each day to help a family in our community get back into their home. Each evening we will have a lot of fun growing closer as a youth ministry and growing closer to God through worship, Bible study, and games.