"Crestwood Children's Ministry strives to partner with parents and guardians, to help guide them to become spiritual leaders of their families. We work together as a church family to truly live out Deuteronomy 6 and raise disciples of Jesus Christ.
MINISTRY SCHEDULES
SUNDAY SCHOOL // 9:00-10:00 am
Children [ Kindergarten - 6th Grade ] - Each child is divided into a class of their peers, grouping them according to their school grade.
Preschool [ 2 Years - 4 years ] - During Sunday School, church volunteers teach the children lessons; while during both worship services childcare is provided by paid workers.
Nursery [ 2 Months - 2 Years ] - Nursery care is available during both worship services and Sunday School.
TREEHOUSE CHILDREN'S CHURCH // 10:15 am Service
Treehouse Worship provides an age-appropriate scriptural message focused on grades K-2nd graders (often referred to as Children's Church). Children preferably check in and receive their security tag from the Children's Department before service, then they are invited to Treehouse by the pastor at the end of the worship portion of the service; those children can be picked up after service in the Children's Department.
Preschool [ 2 Years - 4 Years ] -During worship service Crestwood Children's Ministry offers "Lil" Treehouse Worship for preschool children 2 years old to 4 years old. Preschoolers will worship through song, a bible story, and memory verse motions, for a fun and energetic worship experience.
Crestwood also welcomes children with special needs, please do not hesitate to reach out to the Preschool or Children Ministry Director about any concerns or needs that your child may have.
First Time? The Children's Check-in Desk is located through the side doors of foyer in the sanctuary or the entry doors to the right of the main sanctuary building. Please plan on a minute or two to fill out a new visitor cards, so we can get you and your child into our system so that you may receive a name tag for your child and a pick-up tag for yourself.
SECURITY PROCEDURES PRESCHOOL GUIDELINES

Why a Treehouse?
The treehouse represents families coming together and spiritually living out Deuteronomy 6. The door is always open, because we are open to the community and encourage everyone to join us. The treehouse represents a place for all Crestwood children and families to come and worship together and grow spiritually. Deuteronomy 6:7
Soil- The grass and soil represent our desire to have a heart for God and to help our children and families prepare their hearts to bear fruit. The grass also reminds us that our families are planted in the community and being visible for everyone to see God's love. Luke 8:15
Roots- The roots of the tree represent that we put our trust in God's word and we plant our roots deep in the word so that we can stand strong in our faith. The roots also represent each part of the children's ministry that work together to support the children's ministry vision. Proverbs 3:5-6
Tree- The tree is a representation of our families and children growing in Christ. It also represents children's ministry working together to support Crestwood's vision, to help families disciple their children. The leaves of the tree represent children, families, volunteers and Crestwood producing fruit for the Kingdom of Heaven. The Tree also represents God's love being the foundation of our faith and spiritual growth. Psalm 1:3, Psalm 52:8
Ladder- The ladder represents our ability to come to the treehouse to worship and fellowship with one another. It also represents us leaving the treehouse and going out into the community and sharing the gospel. Mark 16:15

Wednesday / 6:15 - 7:45 pm / Education Building
Children in Action curriculum/Books of the Bible/Games
Kindergarten-5th grade
Each week, the program kicks off with gaga ball and fellowship time followed by group worship. Students then team up by grade level for three rotations, Missions, books of the bible, and games.
In Missions they learn a Bible story, verse and about a new missionary family for the month and the country they serve. During this rotation children do Activities and sometimes have opportunities to earn badges as well as learn a way in which they can serve our community just like our current missionary. In our 2nd rotation children are working through the books of the bible, learning facts like who wrote the book, when the book was written and some stories that were in the book. Our final rotation is Games which is where we teach the kids a memory verse for the week that changes up throughout the weeks depending on the game. The main goal of our program is to be the hands and feet of Christ in all things that they do!
6th Graders
Sunday Mornings - 6th graders help with check in and also help with our getting our treehouse computer set up and ready for worship. They then move into their classroom where they are working through their very own curriculum that helps bridge the gap as they get ready to transition from the children ministry to the student ministry.
Wednesday Nights - Start off by playing gaga ball and games with the children but then transition to the youth building where they join them for a time of fellowship and worship. Once they are finished with that they return back to the education building where they follow the Grow curriculum as a small group in their classroom.
---
CONTACT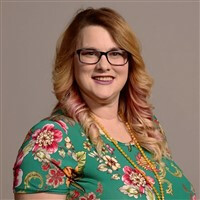 Sarah White
Children's Director
E-Mail: