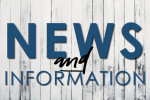 Church & Covid -19 Update - Resuming Worship at Crestwood
Based on Governor Abbott's New Order issued on April 27th our current plan is to Resume Worship on May 24th. What will this look like?
One Worship Service at 11 am in the Activities

Building on the south end

of our campus beginning on May 24th.
We are asking people to practice social distancing while on site.
All people will be seated by ushers upon arrival.
No childcare will be provided during Worship Services.
Offering Boxes will be placed in foyer of the building.
If you have an underlying health condition or compromised immune system, we are asking you to please join us from your home through our live stream worship.
Also, until social distancing restrictions are lifted, the only on-site ministry that will take place is the Sunday morning worship service.
For a more in-depth explanation of our plans, you can refer to the full letter HERE that explains the decisions the leadership and our pastor have made.
God bless, and I look forward to joining with you soon for worship.
Please also check out the latest video: